Astronomy Photographer of the Year: Collection 7: Celebrating 10 years of the world's best photography
Various photographers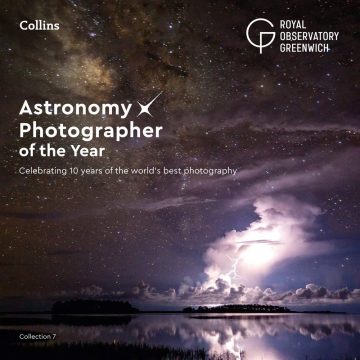 Astronomy Photographer of the Year: Collection 7: Celebrating 10 years of the world's best photography
Various photographers
Publisher
Harper Collins

2018

Edition

Hardcover

,

200 pages

Genres
Wildlife photography
Tags
AsteroidsSkyscapes, Astronomy, Astronomy Photographer of the Year, Aurorae, Comets, Competition, Deep Space, Earth, Galaxies, Moon, Nature, Nebulae, Northern Light, Planets, Solar system, Space, Stars, Sun, The Universe
Buy on Amazon
Insight Astronomy Photographer of the Year is the biggest international competition of its kind, annually showcasing spectacular images shot by astrophotographers worldwide.
The images collected here have been honored in one of the following categories:
Image Categories;
• Aurorae
• Skyscapes
• People and Space
• Our Sun
• Our Moon
• Planets
• Comets and Asteroids
• Stars and Nebulae
• Galaxies
• Young Competition (aged 15 years or under).
Special Prize Categories include The Sir Patrick Moore Prize for Best Newcomer, and the Robotic Scope winner.
Each image is accompanied by caption, photographer, location and technical details.
| | |
| --- | --- |
| Book title | Astronomy Photographer of the Year: Collection 7 |
| Subtitle | Celebrating 10 years of the world's best photography |
| Photographer | Various photographers |
| ISBN 13 | 9780008295745 / |
| Publisher | Harper Collins |
| Publish year | 2018 |
| Genre | Wildlife photography |
| Book format | Hardcover |
| Pages | 200 pages |