The Dior sessions: Portraits by Nikolai von Bismarck, Tailored by Kim Jones
Nikolai von Bismarck
9780847867257
/
0847867250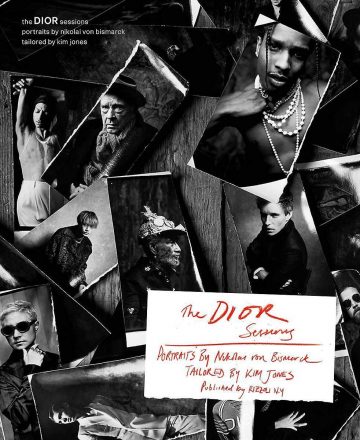 Exclusive celebrity portraits by photographer Nikolai von Bismarck capture the new course of Dior menswear under the direction of contemporary fashion innovator Kim Jones.
Known for slim silhouettes and precise tailoring, Dior Homme has long been a leader in menswear. In this new volume of exquisite portraits of celebrities and style influencers, photographer Nikolai von Bismarck celebrates the thoroughly contemporary style of the revered French fashion house.
In the world of contemporary men's fashion, Christian Dior's sophisticated legacy has been upheld by innovative designers, especially current creative director Kim Jones, who's received praise for incorporating both couture values and streetwear elements into his work. With his years of experience at the heart of the fashion world and working on photographic reportages all around the globe, von Bismarck captures striking images of Kim's designs, which fuse exquisite detail, romantic patterns, and soft colors with traditionally masculine silhouettes while retaining the modern edge of streetwear through sports shoes and chunky industrial jewelry. Jones's reverence for Dior's heritage is evident in the photographs – even in his most daring innovations he nods to Christian Dior's favorite patterns and floral motifs, as well as tailoring inspired by the signature couture designs of vintage Dior. A rare look inside an iconic menswear brand consistently at the foreground of celebrity style, The Dior Sessions is a must-have for Dior fans, fashion aficionados, and stylish men everywhere.
About the photographer
Nikolai von Bismarck is a photographer specializing in portraiture, reportage, and fashion photography. Born in London in 1986, Nikolai first began working for Mario Testino and became the youngest photographer to shoot for a Condé Nast publication, before attending Parsons School of Design and training under Annie Leibovitz for two years. Vying to explore his own photographic projects, Nikolai travelled widely around Africa, Eastern Europe and Asia; his reportage projects have been featured in The Times and The Daily Mirror. Nikolai's fashion and portraiture work has also appeared in numerous publications, including Vogue and Harper's Bazaar.
| | |
| --- | --- |
| Book title | The Dior sessions |
| Subtitle | Portraits by Nikolai von Bismarck, Tailored by Kim Jones |
| Photographer | Nikolai von Bismarck |
| ISBN 10 | 0847867250 / 0-8478-6725-0 |
| ISBN 13 | 9780847867257 / 978-0-8478-6725-7 |
| Publisher | Rizzoli USA |
| Publish year | 2019 |
| Genre | Fashion photography |
| Book format | Hardcover |
| Language | English |
| Pages | 180 pages |
| Color or b/w photographs | colbw |
| Dimensions | 28 x 35 cm / 11.0 x 13.1 inches |
| Weight | 2,1 kg / 4.6 pounds |